| | |
| --- | --- |
| | JTB3.0: |
March 10 & 11 at Jewlicious Festival are multi-band shows with humor and fashion, in our acoustically perfect Jewlicious Hall, which may be called The Arena.

The current line up of confirmed J-rockers includes the acts listed below. Be sure to visit their linked Web sites: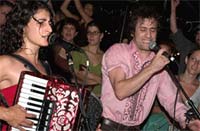 Contrary to popular belief, Golem is neither a towering Jewish Frankenstein who defended the Jews of 17th Century Prague, nor a creature from "Lord of the Rings." Golem is a 6 piece Eastern European folk-punk band. Fronted by Annette Ezekiel – singer, accordionist, and 5-foot powerhouse, with vocalist / tambourinist Aaron Diskin, violin virtuoso Alicia Jo Rabins, trombonist Curtis Hasselbring, upright bassist Taylor Bergren-Chrisman, and drummer Tim Monaghan, Golem's sound evokes wisps of old-world elegance filtered through the successes and disappointments of new-world dreams.
missFlag is an Indie band hailing from Jerusalem, Israel. While you can label the band as anything you want, the varying music backgrounds of the five founding members produce an original, exciting, emotional sound found nowhere else in the world. Their debut EP featuring the hit single "Hidden Thieves", has been featured as the Track of the Week four times in a row on the Indie music station "Fame Games" and is currently the stations highest rated song. Following the success of their five-track EP, the band began recording its first full length album in July of 2006. The bands talent attracted well known L.A. producer Guy Erez (the Gipsy Kings, Ryan Cabrera, Randy Coleman), who is producing missFlag's new album, "To Infinity", to be released in January 2007.
www.missFlag.com or MySpace page

Rav Shmuel is a rabbi who drinks beer and plays original compositions on his guitar. He has a beard and sidelocks and he loves The Dead. He does not see an inconsistency between these two identities. Rather, he thinks of Judaism and music as complementary and often coalescing tools and methods for communication (blah blah blah). Rav, who has taught Jewish Philosophy and Talmud at various Universities, has also toured the country with Gefiltefish, his first stateside band, playing sold-out parking lots before and after Phish shows. He does not play klezmer, although he does make the odd Maimonidean joke. He thinks of himself as a Rock Star.
Check out this kind review on Billboard Magazines Website! Billboard Review

Blood Sugars (NYC)
The brainchild of musician Jason Rabinowitz, supported by The Giraffes' John Rosenthal on bass and drummer David Beauchamp of The Jeffrey Lewis Band, The Bloodsugars' talent is a formula for success in a wide variety of styles. They combine '70s garage rock with hints of '80s new wave and '60s psychedelia, with early punk rock as the glue that holds their sound together.
Makkabees (CA)
The Makkabees are committed to preserving Jewish tradition through unconventional means. Rockers of the last two festivals, these heavy metal versions of your favorite Jewish folks songs create moshpit horas and amazing energy. With frantic paced melodies and tunes, these blistering metal heads easily win over every audience.
Shankbone (CA)
Shankbone plays an mash-up of Jewish and Indie music, bringing excitement and fun to everyone. While known for their interpretations of Rabbi Carlebach favs, they have recently forayed into original rock tunes with passionate melodies. Shankbone is backed by a pro rythm section of Michael Weinstock (Porno for Pyros) on drums, and Shaul Faulkner (8th Day) on bass, David Finley (Flying Shitsus) on keys, Jordan Antonoff on lead, and Rabbi Yonah on vocals, rythm guitar, and congo.
Eric Rosen & Twelve Tribe Sound (CA)
While most DJ's aspire to be the man of the moment and DJ in the spotlight for everyone to worship, Eric Rosen focuses on providing the kind of musical atmospherics that draw from every genre of house to set the stage for before, during and after the party. Ancient encrypted messages in the desert brought these musical protégés together from different tribes under the vision of house music.
more to be announced soon…
Latest posts by Rabbi Yonah
(see all)