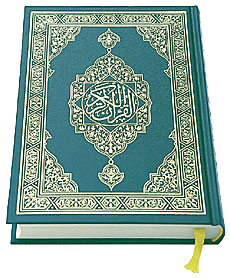 As-Sharq al-Awsat noted this past week, a historic undertaking — the first official translation of the Qur'an into Hebrew was underway and, according to officials, will take "over a year":
The translation of the Holy Quran into Hebrew will take over one full year, according to Dr. Mohammed bin Salim al Awfi, the secretary general of the King Fahd Complex for the Printing of the Holy Quran, the Saudi Arabian body authorized to issue and publish translations of the Holy Quran into various languages.

A year has already passed since the complex announced undertaking the translation of the meanings of the Holy Quran into Hebrew, while other translations into Arabic and Hebrew have been published outside of Saudi Arabia, however containing several flaws.
The first authorized Hebrew translation of the Qur'an, this edition will avoid use of "the term Israelite and narrations that cannot be confirmed", and will be done in accordance with Shari'a as well as avoid Sunni-Shi'a denominational conflicts.
With respect to the translation team, al Awfi pointed out that translation requires revision and alteration by at least two proofreaders. Proofreaders are required to have sound beliefs, good knowledge of Shariaa, an excellent standard of the Arabic language as well as fluency in the target language.
I can't help but wonder what sparked this b'davka now. (Will Steimatzky's be releasing this on Shabbat, too?) Is there a new push to encourage Israelis to become Muslim? Are there Hebrew-speaking Israeli Muslims who, unable to read the Qur'an's literary Arabic, need a translation into Hebrew?
While this is the first Saudi-authorized Hebrew translation of the Qur'an, other Hebrew translations of Islam's holy text have been extant for quite some time. However, as al-Awfi explains:
Asked about the spread of various versions of Hebrew translations of the Quran, al Awfi stated that there are many that contain distorted or unreliable translations of the meanings of the Holy Quran that were prepared by prejudice, anti-Islamic, or incompetent individuals. "Such translations are not limited to one particular language. The distortion of the meanings of the Holy Quran began many years ago. The first such distortion took place under the auspices of Peter the Venerable in 1143. Since then, imprecise translations by orientalists have continued [to be published] until now," he added, pointing out that such ongoing distortions have resulted from ignorance of, hostility towards, and fear of Islam.
Jews are no strangers to blatantly bigoted quasi-translations and hatred-driven distortions of their holy texts. The fact that an Islamophobic translator or proofreader with ulterior motives jumped on the wagon to "expose Islam" to Hebrew speakers doesn't surprise me.
The year-long timeframe was given as a minimum, not as a maximum, and al-Awfi reiterated that translating the Qur'an into any language is an arduous and painstaking process.
Perhaps this could lead to an increase in Jewish-Muslim unity, and a decrease in prejudice, something no correct-thinking person could oppose. Still — I can't help wondering about the reasoning behind such a decision, or how it will be received in Israel.
And in light of the fact that Saudi Arabia is still under a trade boycott with Israel, this commissioning by an official Saudi agency of the translation of Islam's holy text into Israel's official language — the official language of no other country on the planet — is something that raises my eyebrows.