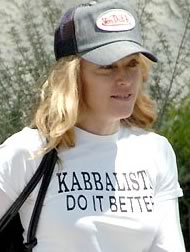 Will you get a load of this?
UPI brings us the story — Madonna has declared herself an "ambassador for Judaism":
Madonna celebrated the Jewish new year in Israel with her husband Guy Ritchie and Israeli President Shimon Peres, Usmagazine.com reported. Madonna, who was raised Catholic, has in recent years publicly embraced the teachings of Kabbalah, a form of Jewish mysticism. She traveled to Israel Wednesday, the eve of the Jewish new year, to attend a conference on Kabbalah.

She exchanged gifts with Peres at his Jerusalem home Saturday. Peres bestowed upon Madonna a lavishly bound copy of the Jewish Bible, while the singer gave Peres a copy of "The Book of Splendor," the guiding text of Kabbalah, Usmagazine.com said.

Inside the volume, she wrote, "To Shimon Peres, the man I admire and love, Madonna," the Yediot Ahronot daily reported. "You don't know how popular the Book of Splendor is among Hollywood actors," Madonna reportedly told Peres. "Everyone I meet talks to me only about that. I am an ambassador for Judaism."
This is perhaps the most audacious usurpation of Judaism we've seen yet by a Kabbalah center graduate. Ambassador? When did she get citizenship?
Ignoring the fact that it's more than just a little patronizing to Jews-by-choice to declare yourself an "ambassador for Judaism" just because you give over excerpts of Kabbalah Centre philosophy (or, perhaps, the week's "spiritual forecast"), for Madonna to consider herself the "voice" of any Jewish community or of "Judaism" is just not realistic. Rabbis in Israel are so furious over her visit that one respected kabbalist wouldn't even mention her name. One can not be an ambassador for a group against that group's will.
Not to mention, the fact that Kabbalah is being called "a mystical sect of Judaism" is likewise mania-inducing. The Zohar ("Book of Splendor"?) does not create a "mystical sect" (or, G-d forbid, create the "Kabbalah faith") nor does it prescribe its readers to follow its teachings to the exclusion of — oh, just to pick something — the Torah.
Furthermore, Judaism has enough authentic adherents out there in the public eye to fill its own embassy. From Matisyahu to America's new attorney general, from Shmuley Boteach to Paula Abdul, we are beginning to baruch Hashem have an abundance of mitzva-observant bonafide Jews attempting to put a good face out there for the Jewish community, and for Judaism. I also feel particularly irked because Madonna's being an "ambassador for Judaism" does nothing productive for our communities, on the contrary, it makes being a "follower of Kabbalah" equivalent to being a Jew-by-choice, something which cheapens the life-changing choice of Judaism by equating it to that which Paris Hilton does after a breakup.