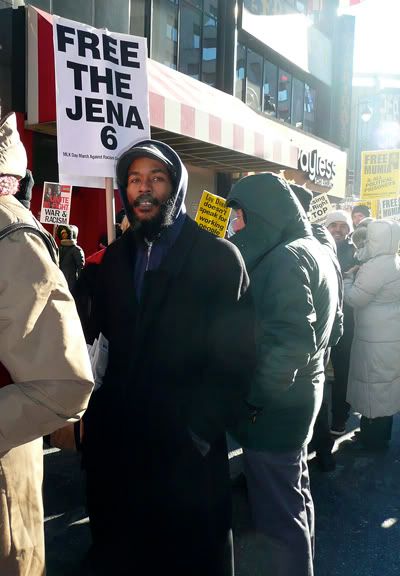 On Monday, I merited to take part in the New York March Against Racism sponsored by TroopsOutNow.org in honor of Martin Luther King Day.
Co-sponsored by literally dozens of co-signing organizations and leaders, the march began at 32nd and 7th Avenue at the headquarters of WABC Radio, to protest the re-hiring of Don Imus (to the tune of a $5-million-per-year contract). Proceeding down 32nd to 8th Avenue, the march's final destination was Columbus Circle, to CNN's New York headquarters. There, the subject of protest would be Lou Dobbs, whose commentary on immgration has raised more than a little ire among working class minority communities.
The march was a testament to the diversity of New York. Literally every ethnic group and minority had some organization or representative there at the march, interacting in solidarity. Under the banner "Black, Latin@, Asian, Arab, Native, White: Unite Against Racism", the march was but one of a series of marches planned throughout the country on the holiday, from Boston to San Diego.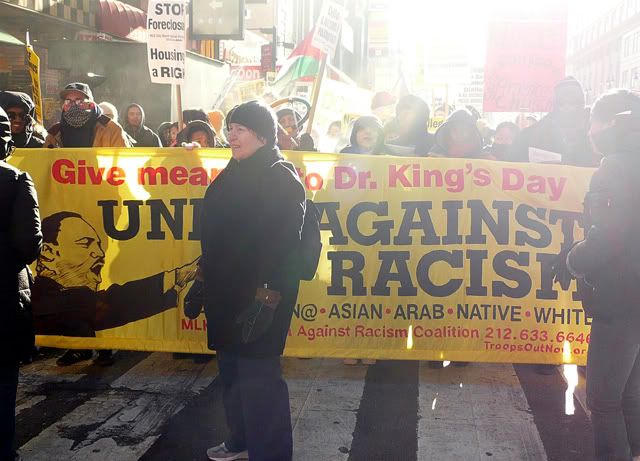 The frigid afternoon began with marchers assembling and tables setting up around 1pm. By 1:10pm the kick-off speeches were in full swing, with TroopsOutNow.org, Katrina organizers, Palestinian activists, and minority empowerment leaders all pitching in their inspirational words to the frostbitten crowd of about 100 which had begun to assemble. By the time we were ready to walk at about 1:50, while I had lost 70% of the feeling in my toes, the crowd grew by what seemed to be at least 400%. From the middle of the crowd where I was, I could only surmise the size of the group I was in.
At about 1:50, we set off for 8th Avenue to a rousing chant of "the people! united! will never be defeated!" set to a nice Parliament/late James Brown-esque funk backdrop. Grooving at this point, I encountered a group of punk rockers crossing 7th Avenue holding "Hands Off Black Youth" signs, singing the chorus to Antifa Hooligans by Los Fastidios. Joining them on the chorus, I began to walk with their group.
It was around this time I noticed the diversity of the organizations. I was sandwiched in between Domestic Workers United (an advocacy group which fights for the rights of household workers), a Filipino human rights organization fighting for visibility for the Sentosa 27 (victims of human trafficking and labor exploitation), a Chinese-American anti-racist organization……and the "Free Palestine" group. This is where the afternoon began to get a bit complex.

First of all, I should more accurately call the group "the second installment of the 'Free Palestine' group", because people in kaffiyehs and holding Palestinian flags were quite prominently in the front of the march, and "Free! Free Palestine!" was a chant I heard more than once. Lagging behind a bit due to the lack of blood circulating in my feet, I was overtaken and enveloped by the pro-Palestinian crowd soon after we turned onto 8th Avenue.
The anti-Israel sentiment was in full effect. One of the organizers from TroopsOutNow.org (who was Jewish, as were about 70% of the organizers from most of the organizations, including one of the "black power" organizations) and I began to talk about Israel and I realized soon into our exchange that, while we were both critical of Israel, we were not on the same page about its existence.
The omission of "Jews" from the banner didn't even begin to hint on precisely how overlooked anti-Semitism would be at the march. Once I had a glimmer of hope: as we marched past the New York Times building, one lone protester screams "BOO!". Turning around, I was waiting for him to say what I had been thinking — Holocaust omissions? Anti-Jewish and anti-Israeli spin? Maybe even an accusation of anti-Semitism? Something? "Why did you just scream 'boo!'?", another protester asks.
"Because I heard that the building was owned by some Zionist jeweler who works up on 5th Avenue."
Sigh…Not once was anti-Semitism the buzz-prejudice on anyone's lips. While I was ecstatic to sound off against racists, the fact that anti-Semites were off the radar was disturbing to me. And the fact that so many of the organizers were Jews made this fact even more striking. Considering how pro-Israel and pro-Jewish Dr. King was, this omission is not only potentially offensive to victims of anti-Semitism, but borders on historically inaccurate.
Still, all in all, a wonderful march, comprised of many wonderful activists I was privileged to meet. May the light of Dr. King's legacy live on. Talk about a man who truly helped to bring the world closer to Moshiach.