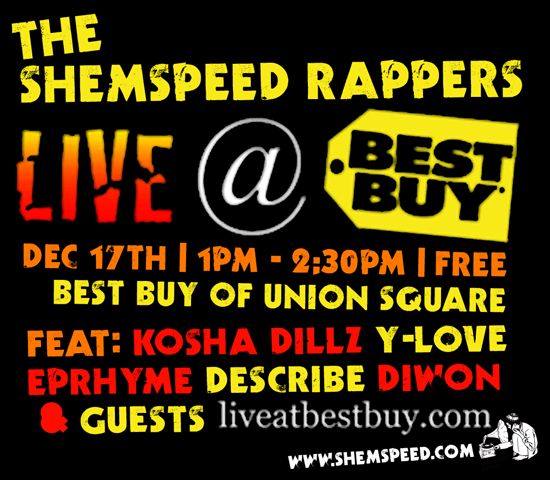 If you are in NYC this week for Chanukah, be sure to catch the MCs of Shemspeed playing Live at Best Buy in Union Square! We are talking live performances by Kosha Dillz, Y-Love, DeScribe, Eprhyme, Diwon and guests all part of this years Sephardic Music Festival.
You know what else is part of the fest? TONIGHT (12/16) – Pharaoh's Daughter, DeLeon, & Eytan with Dreams in Static at the new Knitting Factory. Then Tomorrow night at Joe's Pub by Electro Morocco and Diwon and Saturday night is the party of the century – the massive Balagan Boogaloo Warehouse Party from 10:30pm – 6am!!! Only 5 bucks with an rsvp, (email rsvp@shemspeed.com)
This and more as part of 2009's Sephardic Music Festival!
Visit www.sephardicmusicfestival.com/events for all details.
ck's note: I just had to add in this sweet, sweet video from the Sephardic Music Festival. It's Yair Dalal performing "Ya Ribon Olam" – awesome! The SMF is not just about rappers apparently!
Once again let me list all the local and national Jewish Community Sponsors of the SMF so that we can thank them for their generous support of this amazing Festival which incorporates traditional and contemporary expressions of Sephardic music from a wide variety of artists and attracts a diverse and growing Jewish audience year after year:
.
.
.
Yeah. Thanks for nothing. What do Ashkenazim call that again? Oh yeah. A fucking shonda.
Latest posts by Shemspeed
(see all)