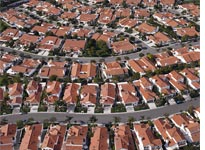 Last night's episode of "Weeds" featured a noticeable absence of song (and cheer) at the episode's opening. So glaring was it that the opening shot simply showed a highway, the Mexican border, and two signs with the words "Weeds" and "Creator: Jenji Kohan" and jumped to Mary Louise Parker attempting to use bubbe's vibrator as a hair dryer. The latter was more awkward funny than real funny.
Am I excited that Weeds is back for another season? Of course! Do I like the current storyline of Nancy, her brother-in-law, Andy, and her kids on the lam hiding out with Albert Brooks? Damn straight! More opportunity to hear the word "schlimazel" outside the context of 80s sitcoms. Ok, so I stole that line. But I also miss the entire cast together and want some promise that their current non-Agrestic lives will be colliding in the near future with the people and storylines left behind, and most crucially the Nancy-Celia storyline.
Last night's "Lady is a Charm" episode gave viewers a twist of hope in this department.
Elizabeth Perkins hinted that Nancy and Celia will be reunited and it only makes sense since Celia is currently taking the fall for Nancy's booming pot business and it's only a matter of time before she's sprung free. To boot, Celia's loverboy detective visited her at the end of last night's episode and revealed an incriminating photo of Nancy and her drugpin boss, Guillermo, leaving us with the words, "I'm starting to believe you."
While this season struggles to find its identity, I'm left with the disturbing thought that Showtime might try to make some sort of web contest to find the next theme song for Weeds. Hell, it might even become the next big reality TV show competition. In the meantime, however, crystal balls aside, it appears that more Yiddish vocabulary is in our immediate future and it's fairly safe to say, Nancy will be assuming more drug running activities both north and south of the border.